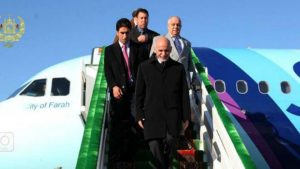 President Ashraf Ghani went to Turkey late Tuesday to attend the organization of Islamic cooperation summit.
According to Arg statement, Mohammad Ashraf Ghani along with a delegation went to Istanbul, Turkey to attend the organization of Islamic Cooperation summit.
"Mr. Ghani is expected to address the summit, expressing Afghan government's view and people's concerns over recent Trump's Jerusalem decision and relocating its embassy to the city," the statement added.
Salahuddin Rabbani, the foreign minister, Fazl Mahmood Fazli, adviser to the president and Haroon Chakhansuri, deputy chief of staff-strategic communications and media office of the president accompany president Ghani.