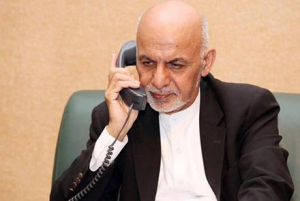 Afghan President Ghani had a telephonic conversation late Tuesday with US Vice President Mike Pence and discussed several issues including the new US strategy for Afghanistan.
According to presidential palace statement, both sides discussed the new strategy and its impact on the region's general situation, strengthening the security and defense institutions of the country, the fight against terrorism and corruption, bring about reforms, the peace process and the scheduled elections.
Meanwhile, Mike Pence assured Ghani that the US government and its people will continue to stand by the Afghan government and people, the statement said.
This comes as regional countries do not have a favorable view on the strategy and consider it as an agent to escalate security tensions in the region, particularly in Afghanistan, but the Afghan government reads the new US strategy as a serious need for Afghans and believes the Afghan government can bring peace and security in Afghanistan.