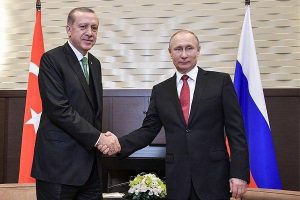 The Russian president Vladimir Putin discussed the situation in the Middle East with his Turkish counterpart, after short stops in Syria and Egypt.
"Naturally, the focus was made on the situation in the Middle East settlement that has deteriorated dramatically and on the Syrian affairs where our countries are closely cooperating," Vladimir Putin told journalists after the talks.
According to Tass News agency, Mr. Putin had discussed possible convening of a Syrian National Dialogue Congress in early 2018 with Syrian President Bashar Assad earlier in the day.
"We are conducting joint work to prepare and convene the Syrian National Dialogue Congress at the beginning of the next year," he said after talks with Erdogan. "It is a secret to no one that I spoke about it with President Assad during my today's visit to Syria."
Putin said that Russia and Turkey agree that the United States' decision to recognize Jerusalem as Israel's capital has a destabilizing effect on the situation in the region.
"Both Russia and Turkey believe that the decision of the United States' administration to recognize Jerusalem as Israel's capital and move its embassy to that city in no way promotes the settlement of the situation in the Middle East. On the contrary, it destabilizes the situation in the region which is already tense," he said.
The Russian president said that his Turkish counterpart has informed him about preparations for a summit of the Organization of Islamic Cooperation due to be held in Istanbul on Wednesday. "Naturally, as an observer country in this organization, Russia will be represented at this forum," Putin noted.
Relations between Turkey and Russia have become closer since the coup last year in Turkey, which is said by Fethullah Gulen.