Landslides and flooding triggered by heavy rain have killed at least 49 people in southern Nepal and left thousands homeless, officials say.
The floods and landslides caused by torrential rains have killed at least 49 people across the country, quoted from NBC.
The Red Cross says 100,000 people have been affected, and communications and electricity cut off in many areas.
The toll is expected to rise with three dozen people reported missing. Another 17 were injured.
The monsoon season, which starts in June and ends in September, causes big floods in Nepal each year.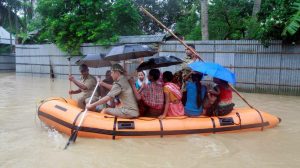 Meanwhile, a massive landslide, triggered by a cloudburst, in Himachal Pradesh, buried two state roadways buses, killing more than 50 people and injuring several others at Kotpuri near Padhar on the Mandi-Pathankot national highway.
The highway have been closed stranding hundreds of vehicles, while the toll may rise, According to local officials.
Hundreds have died across India in heavy rain, floods and landslides since the start of the wet season in April.