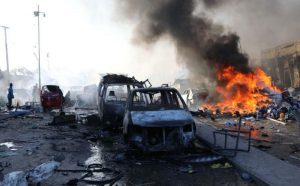 The death toll from back to back bomb blasts that struck busy junctions in the heart of Somalia's capital Mogadishu on Saturday has jumped to 85.
Police said a truck bomb exploded outside a hotel in the K5 intersection that is lined with government offices, restaurants and kiosks, flattening several buildings and setting dozens of vehicles on fire. Quoted from Reuters.
Two hours later, another blast struck the capital's Medina district.
"The number of dead has risen to 85. We know some 100 who were injured," said Mohamed Hussein, a police official.
There was no immediate claim of responsibility but al Shabaab, a group allied with Al-Qaeda, often carries out attacks.
It is noteworthy that this is one of the most deadly attacks in that country since 2007.