The head of NUG M. Ashraf Ghani talked about various issues during a press conference in ARG palace on Sunday.
---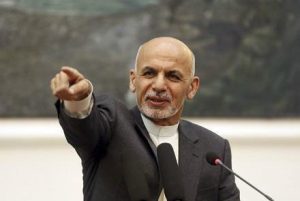 The head of NUG M. Ashraf Ghani talked about various issues during a press conference in ARG palace on Sunday.
President Ghani emphasized that the misconduct by the security forces is not acceptable, and ordered an immediate probe into the incident in northern Faryab province.
"all security and defense forces are responsible before the law and people and they have to act in accordance with religious values, the laws of the country and human rights values," said president Ghani during a press conference in ARG.
"any behavior against the principles and the country's laws by the security and defense forces is by no means acceptable for me as the chief of the country's armed forces," Ghani said. "any behavior of the country military forces in contradiction with the constitution and the killing of civilians in operations is unacceptable and these forces are accountable to the people," he stressed.
However, president Ghani defended from the detention of Qaisari and some other local commanders and read it in accordance with the law and the will of the people, saying that measures in this regard were carried out according to the law and serious actions would be taken against the irresponsible gunmen.
President Ghani ordered a probe into the incident of Faryab province while images and videos have recently been released on social networks, in which, the security forces insult and torture arrested individuals.
In addition, president Ghani reacted against the demand of some political faces posed Saturday to invalidate the voter registration process, accusing them of unfair judgment.
"this is impossible in this time and the elections must be carried out in accordance with the timetable," Ghani added.
In another part of his rhetoric, president Ghani said that Taliban has no reason to continue the war and must think on the negotiation option.
President Ghani further talked about the return of General Dostum, saying that the grounds prepared for Dostum return.
Yet, the northern part of the country has witnessed insecurity since the detention of Nezamuddin Qaisari. Protesters accuse the government of ethnic cleansing.