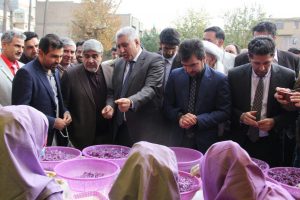 The third Gul-e Saffron festival was opened Monday by Herat governor M. Asif Rahimi.
Saffron farmers, as well as companies involved in processing and exporting saffron, exhibited their products at the festival.
According to DID news agency report, Herat governor M. Asif Rahimi welcomed holding the third Gul-e Saffron festival, saying Herat is one of the first and largest provinces of the country in the field of processing and producing saffron.
"Ten years ago, the cultivation of saffron began in a district of Herat province. Fortunately, it has spread widely among the people and hundreds of thousands of people are working in this field," Herat governor asserted and stressed on supporting farmers.
Meanwhile, Abdul Saboor Rahmani, head of Herat's agriculture department says the cultivation and harvesting saffron flowers have been increased in the province and says: "the harvest rate of has reached to 8 tons and the cultivated area covers 3,500 acres of land."
According to him, Herat saffron is exported to America, India, Germany, Netherlands, and Singapore.
Mr. Rahmani described the presence of women in the field of harvesting, processing, and packaging saffron prominent, adding: "this year, 560 saffron kits have been distributed to women."
"Currently, 17,000 farmers in 15 district of Herat province are cultivating and harvesting this well-known international product," he further said.
On the other hand, head of Afghan saffron union Bashir Ahmad Rashidi said the aim of the festival is to promote this product, and called on the cooperation of local officials and related organizations in the field of controlling, observing, and exporting saffron.
Herat's saffron products were displayed for two days in fifteen stands and public access is free.