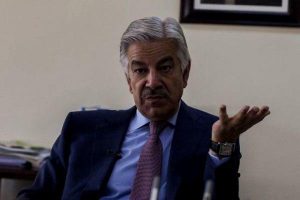 Donald Trump should give up his new military approach and resolve Afghanistan crisis through talks with Taliban, the Pakistani foreign minister Khawaja Muhammad Asif said at a press conference on Monday in Islamabad.
According to Al-Arabiya, the Pakistani foreign minister during his meeting with American officials, asked them to negotiate with Taliban group.
"The Trump administration has taken a military approach in Afghanistan which is a failed policy," he added.
Khawaja Muhammad Asif did not name a country that supports Taliban in Afghanistan but has said that China, America, and Afghanistan can engage other countries which have an influence on Taliban in peace efforts.
However, American drones attacked tribal areas in Pakistan on 15 September, killing 3 members of Taliban group including Mawlana Muhibullah, one of their commanders.