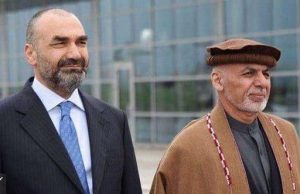 Americans warn about any military action and violence against Ata M. Noor, saying standing against the people is wrong and dangerous.
According to trusted sources, US ambassador told Mr. Ghani that in the advanced democracy of the world, this is the people who appoint someone as heads of a province and ministry, and now that the people are supporting Balkh governor and against his removal, there is no need to oust him.
Americans warned Ghani, ARG palace itself is responsible for the bad consequences of struggling with Ata M Noor and its negative impacts, the source said.
These warnings and consequences of removing Noor as governor, has disappointed the central government. Ghani and his team are looking for peaceful resolution over Balkh controversy, the source added.
According to the source, the news about ARG's will to remove Ata M. Noor as Governor are just propagandas.
This comes as Ata M. Noor had also warned about any military action against himself.