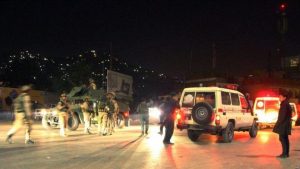 The UN Assistance Mission in Afghanistan (UNAMA) released its preliminary findings in to the suicide attack in Kabul on 4 January.
According to UNAMA report, 13 civilians have been killed and additional 19 others were injured in the incident.
The attack, claimed by ISIL terror group, took place in the evening when the bomber detonated his improvised explosive device after the arrival of anti-riot police at a violent disturbance between security officials and shopkeepers.
The report says twelve of the 13 slain were police officials, performing legitimate law enforcement functions of helping to restore order and safety for civilians during a violent incident.
UNAMA reminds all parties that Afghan National Police personnel are regarded as civilians unless they are directly participating in hostilities.
On 28 December, Daesh terror group targeted a cultural and news center at western Kabul city where civilians had gathered to commemorate a national day. Around 100 people were killed and wounded in the incident.
The preliminary findings of UNAMA indicate that children were among the casualties.