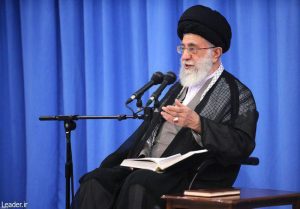 The leader of Islamic Republic of Iran Ayatollah Sayed Ali Khamenei says the US's purpose for moving Daesh (ISIL) to Afghanistan, is to justify its presence in the region.
"The very same hands that created Daesh to use it as an instrument for oppression and crime against the people of Syria and Iraq, now and after facing defeat in the regions, are seeking to relocate Daesh to Afghanistan," the Leader said, adding that recent killings signify the start of the plot. Tasnim News Agency reported.
According to the report, Ayatollah Khamenei made it clear that the Washington government is behind the emergence of Daesh in the region.
"By relocating Daesh to Afghanistan, the US aims to legitimize its military presence in the region and to ensure the security Israel," he stressed.
"Americans, themselves, are the main factor behind insecurity in Afghanistan," the leader said, "all killings that have occurred in the name of religion since 20 years ago are directly or indirectly linked to the US."
The Iranian leader remarks come after more than 100 people lost their lives and another 253 people wounded during Saturday terror attack in Kabul. Besides, in the latest attack claimed by ISIL, 11 security soldiers were killed and 16 others wounded as attackers stormed a military academy early Monday morning.