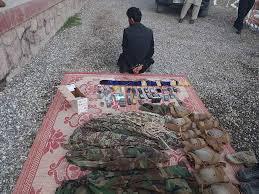 Afghan Special Forces arrested a mine planter in "Alinegar" district of Laghman province, general national security directorate says.
According to DID news agency report, Afghan Special Forces detained the terrorist in Nimnani, a village in Laghman province.
"Heshmatullah, who is arrested by the national security forces admitted that he intended to carry out terrorist attacks on predetermined targets in Alinegar district," national security directorate said in a statement.
Laghman province in eastern Afghanistan is among insecure province which Daesh terror groups have activities in the province.