Latest News
Region
Uzbek Workers Lost lives in Kazakhstan Bus fire: Kazakh authorities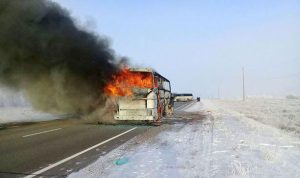 52 migrant Uzbek workers were killed when a bus burst into flames in Kazakhstan on Thursday, officials confirmed.
The incident happened at 10.30 a.m. local time on Thursday morning in the Irgiz district of Aktobe region, the BBC reported.
"A bus caught fire … 55 passengers and two drivers were on board. Five passengers received medical assistance. The remainder were killed," the Kazakh emergency services ministry said in a statement carried by AFP.
The vehicle is believed to have been transporting Uzbek nationals along the 1,300 mile long Samara-Shymkent route, which is used by Uzbek construction workers to travel to and from building sites in Russia.
Authorities are investigating the cause of the fire.