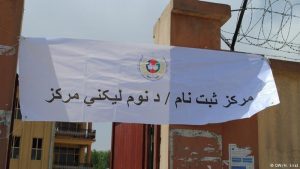 The election commission announced the start of the voter registration process within the next three days.
according to the election commission, the process of voter registration for the parliamentary and district councils elections will begin Saturday 14 April 2018.
"Voter registration will start on 14 April in 1,500 centers," said Maliha Hasan, the commissioner of the election commission.
According to her, 11,000 Election Commission staff have been hired for the first phase of voter registration process.
"The second phase of voter registration will begin on 15 may in district centers," Ms Hasan added.
She called on Taliban to avoid interference and disturbing election process of Afghanistan.
The Election Commission sees increasing security threats as the biggest challenge to the parliamentary and district council elections and calls on the troops to provide the fields for people to vote in the election.
According to security institutions, 10 districts are under Taliban control and election security is one of the priorities of the security forces.
The parliamentary and district councils election is expected to be held on 20 October 2018.