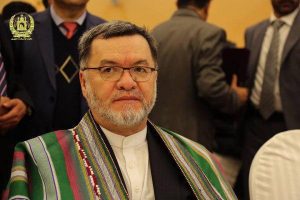 As the Afghan parliamentary election getting closer, the second VP Sarwar Danish warned the electoral and government agencies to refrain from fraud and manipulating people's vote.
"The people's brilliant past will once again point out the epic presence of the people in the decisive election process. Undoubtedly, in addition to the expansion of the level of awareness and the presence of a new and educated generation, past experiences and understanding of the current critical situation, also encourages the public presence in the upcoming electoral process," VP Danish said in a message on Thursday.
"today, the people are the main owner of the system, governance, civil and social achievements in Afghanistan. Rulers are in government positions, as long as they can represent the people as well as being committed and trustworthy to serve the people and to protect their achievements," he asserted.
According to the second VP, the election is a national test in the current critical condition. The successful outcome of this test will make the people of Afghanistan hopeful about the future and will completely disappoint the enemies with their evil goals. Thus, as I firmly believe in well-aware Afghan people, I once again emphasizes that those behaviors that would make the enemies of Afghanistan hopeful and reduce the motives of the Afghan people towards the decisive process of elections should be avoided.
"some moves that have been made in the past to undermine the current electoral process, have damaged the level of people's participation, but still the well-informed Afghans will prefer the Afghan interests to any other expense. They will prove that they are always on the stage and are always influential by their massive presence," he continued.
"after holding the election, the important task of the electoral bodies is to show their commitment and responsibility in the best way by protecting people's clear votes. Therefore, I warn all electoral agencies and government officials to strictly abstain from any illegal conduct that leads to electoral fraud, and that electoral law enforcement is a prime criterion for counting and announcing the results of people's votes," the message said.