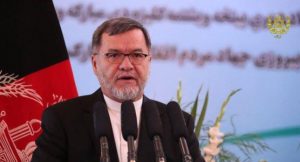 According to the statistics of state institutions and foreign entities, drug production has been on the rise in the recent years, but the counter narcotics department has launched a "national mobilization week" to effectively campaign against this phenomenon.
Salamat Azimi, the counter narcotics minster declared at the ceremony of beginning national mobilization week that through this program, people will be informed on the one hand, and on the other hand, the fight against drugs will be taken seriously and faster.
She also stressed that to fight against drugs, it is needed to bring all Afghan citizens together to deal with it in a common way.
Sarwar Danish, the second vice president stated that we were not successful in the fight against drugs.
"Various approaches to combat drugs have been proposed by the government and international institutions, but the fact is that these strategies and plans were not enough," Mr Danish asserted.
National mobilization week to counter narcotics drugs has been launched once a year since two years ago in Afghanistan, with the initiative of the ministry of narcotics drugs in coordination with the United Nations.