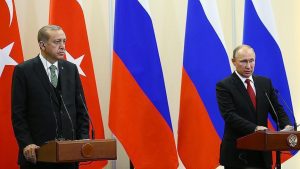 Vladimir Putin, the Russian president during a press conference with Recep Tayyip Erdogan, Turkish president said that Turkey is an important and trusty partner of Russia.
According to (DID) news agency report, Vladimir Putin says that normalization of Russia and Turkey relations has ended and yet will continue to expand its relations.
The Russian president also said that "at a meeting with Mr. Erdogan, I have decided to simultaneously cancel all trade and economy restrictions, except visa issue and importing tomato that was implemented after the Russian fighter crisis."
"Moving beyond the process of normalization of relations, a new era will begin, congrats," Erdogan added.
Turkish president also talked about Khan Shaykhun chemical attack, "perpetrators of such brutal attack must be punished. Today, in a meeting with Mr. Putin, I understood that we have the same opinion about punishing the perpetrators. Any attack which is carried out in violation of the cease fire, not only deteriorate situation, but also destroy the efforts of guarantor countries. We will continue cooperation with Russia in all of these areas."
"As long as Syria catastrophe continues, of course, dialogues and visits about Syria will continue. My friend, Mr. Putin also sincerely wants to end this tragedy. I am confident about his efforts to establish a cease fire in Syria." Erdogan added.
"With the implementation of the cease-fire with the guarantee of Turkey, Iran and Russia, a very important opportunity has been created for fruitful efforts to achieve a political solution. We should not lose this golden chance." Turkish president stressed.
It is noteworthy that Mevlut Chavushoghlu, Turkish foreign minister, Ibrahim Kalin, press secretary, Hakan Fidan, head of Turkey's national intelligence organization attended the meeting.