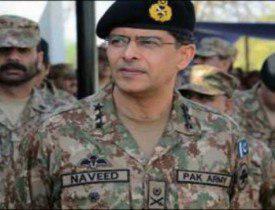 What is going on behind the travel of Pakistani ISI chief?
After Pakistani Parliamentary delegation traveled to Kabul and declared that the aim of their visit was to improve relations between Afghanistan and Pakistan. Naveed Mukhtar, chief of Pakistan's intelligence agency (I.S.I) met with Masoom Stanikzai, head of national security office of Afghanistan.
It should be noted that before, Mr. Atmar had met with his Pakistani counterpart in London and reported about the expansion of relations between the two states in the fields of security and economy.
Afghan government authorities have repeatedly accused Pakistan of backing and controlling Taliban based on credible evidence.
The deterioration of the relations has gone up between the countries, when bloody suicide attacks were carried out in Lahore and Sindh of Pakistan two months ago, and Islamabad claimed the attackers came from Afghanistan.
Pakistan in response to the attacks, completely closed Torkham and Spin Boldak crossings over Afghanistan about more than a month.
ISI chief traveled to Kabul while three days ago Pakistani parliamentary delegation, headed by the parliament's president of that country have met with Afghan senior officials in Kabul.
It is noteworthy that the delegation formally invited from Mr. Abdullah Abdullah, chief executive officer to travel to Pakistan, too.
Some political analysts link these recent moves of Pakistan to Mr. Hekmatyar, who joined the peace process and his official presence in Afghanistan. They have also predicted that relations between the two countries will get better.
Meanwhile, Rahmatullah Nabil, former spokesman for national security directorate in response to the ISI chief visit, says that attacks on 400-bed hospital and 209th Shaheen corps in Balkh and also confessions and controversial interview of Ehsanullah Ehsan, former spokesman for Tehrik-e Taliban Pakistan, were a prelude for this trip to put Kabul under pressure and make it ready to accept Pakistan.
According to the claim of Mr. Nabil, the demands of Mr. Mukhtar from the government of Afghanistan, perhaps will be arresting some Pakistani Taliban who are in Afghanistan's soil, emphasis on the implementation of the security agreement between ISI and national security directorate of Afghanistan, interview with Taliban and a joint fight against terrorism.
Hasan Wahidi – (DID) news agency
Translated by: Taher Mojab