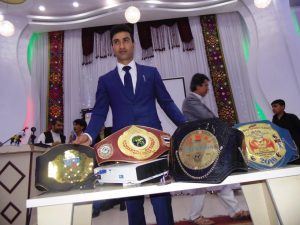 Yesterday, Sayed Rohullah Hussaini, who won the gold belt in the field of Muay Thai world championship series in 2017, was honored at a ceremony with the presence of lawyers of the provincial council, sports officials, athletes and other residents in Herat province.
According to (DID) news agency report, Dr. Mahdi Hadid, a member of the Harat provincial council congratulated the victory of Sayed Rohullah Hussaini to the nation of Afghanistan and talked about the benefits of sport and encouraged the youths to exercise.
"Organizing such events will promote sports culture and if youths are supported, they will work harder." Mr. Hadid said.
"Afghan youths are natuarally champion, provided that the context is prepared for them," representative of Herat provincial council asserted.
Sayed Hamidullah Kabir, the head of physical education in the West, besides expressing happiness about the championship of Afghan athletes in 2017 world competition in the field of Muay Thai, said that country's youths are different from the youths of other countries.
"Our young people become a champion with least possible means and this is not easy." Mr. Kabir said.
Head of physical education in the West stressed that the opportunity is not given to our athletes to showcase their talents and abilities in the world due to various reasons, otherwise, we shine more than this in the sporting events.
It is noteworthy that Sayed Rohullah Hussaini won the gold belt among 70 countries of the world in the field of Muay Thai world competition 2017, which was held in Thailand.