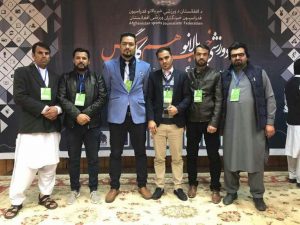 The second Athlete Journalists Congress held in Kabul at the government media and information center the other day.
The federation of athlete journalists which is a sole institution backing up athlete journalists throughout the country, promised to facilitate journalist affairs by having a direct cooperation with other media outlets in the country.
Criticized the media performance, Feroz Mash'ov, the representative of the Federation of athlete Journalists in the West said some media directors ignore sports news.
Meanwhile, a number of athlete journalists at the congress criticized from the sports officials in Afghanistan, pointing to the turbulent sports situation in the country, called for more cooperation on access to information.
About 250 active athlete journalists throughout the country attended the second Athlete journalist congress.