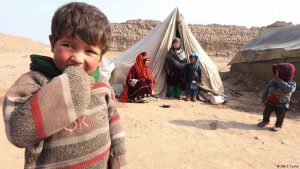 The United Nations says that more than 3.6 million people received their emergency assistance in 2016. The organization expressed concerns about the growing need and said, this year the number will probably increase to 5.6 million.
UN office of humanitarian aid in Kabul has said that more than 3.6 million Afghans benefited their assistance last year. In fact, the figure covers eleven percent of all the country's population.
Dominic Parker, head of the UN mission to coordinate humanitarian aid in Kabul said that according to last year's high figure, it is expected that the number of people in need of emergency aid rise more than ever this year. Quoted from (Deutsche Welle).
"2017 will be another challenging year for Afghanistan and societies should make further efforts," Dominic Parker said. The agency's forecasts indicate that this year the figure will reach to 5.6 million in need of emergency assistance. This international entity said that the possible increase, are violence and people's escape from these areas.
United Nations humanitarian agency in Kabul, considers the return of Afghan refugees from Pakistan, as an influential factor of the challenge.
From 2016 onwards, a large part of the aid will be offered to one million displaced and six hundred thousand returnee from Pakistan, this assistance include medical care, food, drinking water and temporary shelters.
In recent months of last year, the government of Afghanistan had expressed concerns about the growing challenge of internal displaced people (IDPs) in the country.
Ministry of refugees and repatriation said, in addition to immigrants who came to Afghanistan, about one million people have been displaced due to war and insecurity. Officials of the ministry of refugees and repatriation, considered providing winter aid to the displaced and returnees a difficult task.
Meanwhile, the UN report of last year's September had stated that in 9 months of this year, more than 245 thousands Afghans have been displaced and the total number of IDPs reached to more than 1.1 million people.
The report also explained that from this sum, more than 35 thousands families have been displaced, 56 percent are children, 23 percent women and 22 percent are adult men. Statistics suggest that people in 129 districts out of 399 districts in 34 provinces of Afghanistan, have been displaced and seek refuge in safer areas.