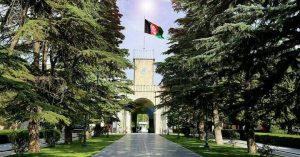 The suicide attacks on Imam Zaman and Ghore mosques Friday evening are a crime against humanity, the presidential palace said in a statement.
"We express our condolences to the families of the victims, adding the terrorists will be soon destroyed by Afghan security forces," said the statement.
"Again, it is firmly asserted that terror groups will never succeed to achieve their evil goals, soon, they will be suppressed and destroyed from by the Afghan security forces at the illegitimate battle field," the statement further said.
The statement further added the terror groups seek sectarian division among Afghan people by targeting civilians.
Nearly 100 people were killed and wounded during a suicide attack on Imam Zaman mosque Friday night, Dasht-e Barchi, west of Kabul, and 30 other people were killed in a mosque in Ghore province.
Daesh (ISIL) took the responsibility.