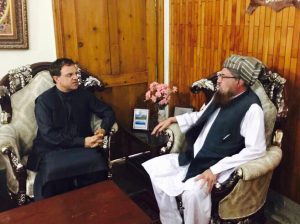 Afghan ambassador to Pakistan Hazrat Omar Zakhilwal Sunday met with Maulana Sami ul Haq known as father of Taliban to help for peace in Afghanistan.
Mr. Zakhilwal travelled to Akora Khattak to meet Maulana Sami ul Haq, asking him to play his role in persuading the Taliban to join the peace process.
Mr. Zakhilwal had gone to Darul Uloom Haqqania, trying to encourage Maulana to cooperate with Afghan peace process, but leader of Pakistani Jamiat Ulama-Islami has not had a positive answer yet.