Afghanistan security forces suffered heavy casualties during recent days as Taliban targeted army bases, high ways and Ghazni province.
---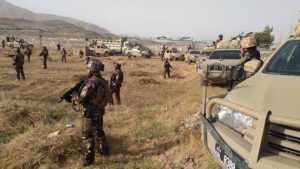 Afghanistan security forces suffered heavy casualties during recent days as Taliban targeted army bases, high ways and Ghazni province.
At least 45 country's security forces were killed in a Taliban attack on Allahuddin base in northern Baghlan province on Tuesday night, security source confirmed Wednesday.
according to police sources, "35 army soldiers and 10 local policemen were killed in the attack."
However, security officials have not yet commented about the attack.
Meanwhile, Taliban militants took the control of large parts of an army base in northern Afghanistan, killing at least 10 soldiers, wounding 15 and capturing dozens more infighting over the past two days, officials said on Tuesday.
The insurgents had captured tanks and ammunition in Chenayeeha army base of Faryab's Ghormach district in an offensive that began on Sunday, a According to Mohammad Tahir Rahmani, head of the provincial council.
According to Rahmani, over 40 security forces surrendered to the Taliban after they received no help nor ammunition supplies despite repeated requests.
However, the security officials have not yet commented on the collapse of the base to Taliban.
The Taliban attack in the north coincided with clashes in southeastern Ghazni province, which lies on the main highway linking Kabul with the south.
Taliban militants stormed Ghazni city early Friday morning, taking the control of the city for five days.
Afghan Defense Minister Tariq Shah Bahrami confirmed during a press conference Monday that foreign terrorists were among the militants who stormed Ghazni province.
"Pakistanis, Arabs, and Chechen fighters were among the Taliban fighters," Defense Minister Bahrami said.
According to security officials, 100 security forces and 30 civilians were killed in Ghazni battle.
The security officials confirmed that terrorists suffered heavy casualties during the battle as well.
"194 terrorists were killed and 147 others injured in Ghazni battle," defense minister Bahrami added.
On the other hand, Security officials in northern Takhar province said Taliban took the control of Ay-Khanum port for the third time Monday night.
"Taliban insurgents could capture Ay-Khanum port after clashes with the security forces," said Khalil Asir, a spokesman for Takhar police forces.
According to him, 12 border forces were killed and 7 more injured during the clashes.
Meanwhile, at least seven police soldiers were killed in clashes with Taliban insurgents on Tuesday on the Kabul-Kandahar highway in Zabul province, local officials said Wednesday.
at least 7 police forces were killed and two police soldiers were wounded in the clash, Zabul police said.