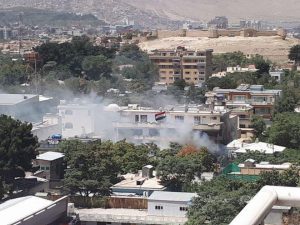 The terrorist attack on the Iraqi embassy in Kabul had a systematic relation with other scaremongering events that were supposed to take place, but failed (those terror attacks that were neutralized in Karbala and Najaf before taking place) and undoubtedly, there is a meaningful relation among the whole series of the terror events carried out or failed on the one hand and the ISIS defeat in Mosul on the other hand. This means that the heavy defeat of scaremongers in Mosul is the main reason for designing and implementing a series of terror operation, some of which were discovered and neutralized before taking place and some other occurred, that the attack on Iraq embassy in Kabul was one of it. These series of terrorist acts were planned by ISIL in retaliation for their heavy defeat in Mosul.
This incident was conducted after the Iraqi embassy in Kabul celebrated ISIS's fiasco in Iraq. The Iraqi ambassador said, ISIS is completely destroyed in Iraq and stressed at the press conference that the role of "religious authority" had been "determining" defeating ISIS in Mosul and in other large cities of Iraq.
On the other hand, since ISIS has experienced continues and heavy defeat in Iraq and Syria, now trying to justify its failure by launching terrorist attack outside the country, but what is clear is that ISIS has its last days.
Several thousand ISIS members were killed in Mosul battle, their state capital collapsed and all of Daesh territory recaptured. The fall of Mosul in Iraq was in fact, a declaration of ISIS' death in that country.
There are signs and traces of their war crimes, crimes against humanity, and the shameful crimes that are unique in the human history.
In all, it is natural that if this terror group has temporarily lost their ability to transfer battle in another region of the world, retaliatory actions are the least reaction that will show.
Dr. S. Abdul Wahhab Rahmani – (DID) news agency
Translated by: Taher Mojab