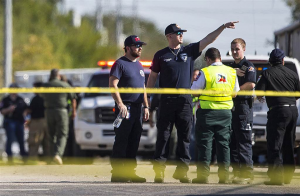 At least 26 people are dead and 20 are injured after a gunman opened fire on a congregation at the First Baptist church in the small town of Sutherland Springs, Texas, on Sunday.
The gunman dressed in all black "with tactical type gear and he was wearing a ballistic vest" fired from outside the church, quoted from Anadolu.
The age of the victims ranges from five to 72. Several are still in hospital with injuries ranging from minor to life-threatening.
Several US media outlets reported the suspect's name as Devin Patrick Kelley, 26, who was a member of U.S military and served at an air base in New Mexico since 2010 and was discharged.
The Pentagon confirmed Kelley was a member of the U.S. military.
"At this time we don't know if it was a self-inflicted gunshot wound or if he was shot by a local resident who engaged in gunfire," according to Texas officials.
The shooting occurred about a month after a gunman killed 58 victims at a concert in Las Vegas, Nevada.