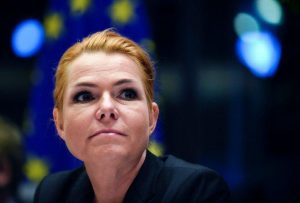 Twelve years after the controversial publication of the Muslim prophet's caricature in a Danish newspaper, the Caricature was released again by the Danish minister of immigration on Facebook.
Danish Minister for immigration Inger Stojberg posted a Caricature of Prophet Muhammad (PBUH) on Facebook, which caused outrage among millions of Muslims around the world after it was published in the Danish newspaper Jyllands-Posten in 2005.
What Danish minister released is, in fact, a screenshot of her personal tablet page that Kurt Westergaard, the famous controversial cartoonist of Jyllands-Posten is seen in the background of the caricature.
A commentary to describe the Cartoon, which is shared by Ms. Inger Stojberg is more provocative that the Cartoon itself. Stressing on freedom of speech, she justified her Facebook post this way: "I honestly believe that we should be proud of the Caricature." According to her belief, publishing the Caricatures shows that Denmark is a free country and anyone can freely criticize what is not appropriate to their idea.
Another reason for the Danish minster is apparently opposing the decision made by the Skovgaard Museum in Viborg of not including the drawing in a new exhibition about blasphemy since the Reformation.
"It is the museum's own choice and they have their full right to do it, but I think it's a shame," said Inger Stojberg, minister for immigration and integration, in her Facebook post.
The Danish Minister of Immigration has already been on News due to her radical Islamist positions and her Twitter account had been suspended.
The publication of the controversial caricature of prophet Muhammad (PBUH) in the Danish "Jyllands-Posted" newspaper in 2005 was the root of rioting in the Middle East, Africa, and Asia that at least 50 people lost their lives.
Kurt Westergaard, a Danish cartoonist who created the controversial cartoon of the Islamic prophet Muhammad (PBUH) wearing a bomb in his turban, has always been threatened to death by some Muslims and has survived several assassination attempts.