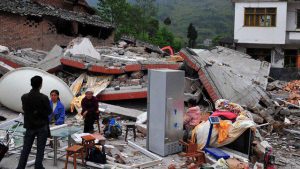 A strong earthquake shook southwestern China near a famous national park, killing 13 people, injuring 175 others and knocking out power and phone networks.
Some reports suggest the death toll could grow. The epicentre was close to an area popular with tourists.
At least five of the dead were tourists, China's official Xinhua News Agency said. The government in Aba prefecture in Sichuan province said 13 people were killed, and 28 of them are in critical condition.
The magnitude-6.5 quake struck a region bordered by the provinces of Sichuan and Gansu at a depth of just 9 kilometers (5.5 miles), according to the U.S. Geological Survey
The China Earthquake Networks Center measured the earthquake at magnitude-7.0 and said it struck at a depth of 20 kilometers (12 miles).
The area is located on the edge of the Tibetan Plateau in northern Sichuan province, home to many Tibetan and other ethnic minority villages.
Sichuan province is prone to earthquakes. More than 70,000 people were killed in a quake there in 2008.