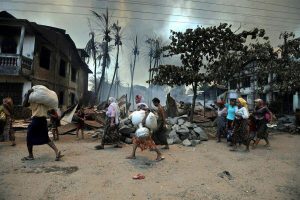 Bangladeshi border guards say Myanmar security forces fired mortars and machine guns on hundreds of Rohingya Muslims fleeing from "Rakhine" clashes.
AFP news agency reported that the attack has occurred in "Ghumdhum" post border.
Clashes got tense last Friday in Rakhine Northern provinces in Myanmar, and hundreds of Rohingya residents fled toward Bangladesh border.
Clashes between Rihingya militants and Myanmar security forces is ongoing in border villages and left 92 dead up to now.
Rakhine has changed to a center for religious clashes against Rohingya Muslims. Rohingya Muslims in are deemed as illegal immigrants.
Following new clashes in Rakhine, hundreds of Rohingya civilian who escaped the violence, were trapped in Bangladesh's zero borders.
Sources say Myanmar's security forces fired more than 10 mortars and a lot of bullets Saturday, toward hills, where Rohingya Muslims intended to escape.
Meanwhile, Manzurul Hassan Khan, chief of Bangladesh's post border said: "They have fired on civilians, mostly women and children, hiding in the hills near the zero line."
There is still no report about the possible casualties of the event.
Tens of thousands of Rohingya asylum-seeker have gone to Bangladesh and are in poor condition.
The attack on Rhingya Muslim people followed global reactions and a number of countries have urges to stop violence against Muslims.
Egypt's Al-Azhar University strongly condemned the brutal massacre of "Rohingya" Muslims in Myanmar and considered it contrary to any religion.