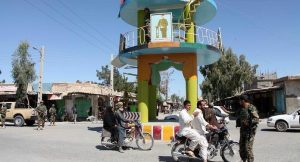 The energy of terrorism's war machines in western Farah province, is provided through factories, producing narcotic drugs. The armed oppositions of the government and powerful local people intensify and flame the war in Farah, using the huge revenues of the drug.
According to DID news agency report, the factories that produce drugs and its revenues provide an important part of war expenses for armed oppositions, and open up that way for them. But planting and trafficking drug is not just in Farah province and affect Nimroz province as well.
"The cultivation and processing of narcotic drugs, carried out in Farah Province, passes through Nimroz to other countries, which has made Nimroz a drug distribution center," Mohammad Seddiq Chekhansuri, the member of the provincial council said, adding: "drug trafficking made Nimroz province unsafe."
These factories are created by Taliban and their revenues are directly paid to the treasury of this group.
"Taliban's war expenses are provided through drugs," Shah M. Na'imi, deputy to Farah's provincial council said.
He believes, Taliban have an active role in cultivating drugs.
According to Mr. Na'imi, Taliban convert these drugs into many other types of drugs and send to global black markets after harvesting them.
"Many of these factories are in "Bakwah, Khak-e Safed, and Gulestan" districts," he further said.
Mr. Na'imi emphasized that if the government wants to provide the security of Farah province, it should first destroy the factories producing drugs. "Air strikes can be very effective in this regard," he said.
Meanwhile, local officials of Farah province confirmed that Taliban are providing their expenses through these factories, and say they have plans to destroy these factories.
"Destroying drug factories is part of the government programs," said Farah governor's spokesman Mohammad Naser Mehri.
"If the security forces determine the exact locations of these factories, they will target them through the air," he stressed, saying "the security forces have targeted many factories this year that produces drugs."
"Although the exact location of these factories are not clear but reports suggest that many of these factories are in "Khak-e Safed and Gulestan" districts," Mr. Mehri said.
This comes as armed Taliban group have increased their attacks in Farah province, and one of the reasons, is having access to the drug revenues.
Ghafor Hashimi – (DID) news agency
Translated by Taher Mojab