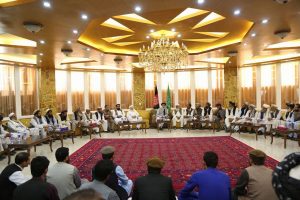 "Putting an end to the war is our main goal and we extend fraternity to all sides to accomplish the goal," Gulbuddin Hekmatyar, leader of Hezb-e Islami of Afghanistan said.
Mr. Hekmatyar expressed these words Sunday (9 July) among hundreds of Hezb-e Islami supporters led by Qutbuddin Hilal, according to the press and cultural commission of Hezb-e Islami.
"Hezb-e Islami is trying to end the current war in the country so that Afghans can live together like brothers and without any fear," he said in his words.
"The best and the easiest way to provide security is through Jihadi and tribal heads," he added.
He called on tribal elders to secure their areas and do not allow opponents to use their areas for war.
Mr. Hekmatyar stressed that Laghman, Jalalabad, and Kabul's Ghazi stadium gatherings show that Hezb-e Islami has a broad support of the people and all these participants urge Hezb-e Islami to put an end to the current painful state of the country.
"We hope that your experience brings a lasting peace and a positive change," engineer Qutbuddin Hilal, a member of the Hezb-e Islami executive council said.
Meanwhile, a number of tribal leaders and jihadists also called on Hekmatyar to help in providing peace and eliminating corruption.