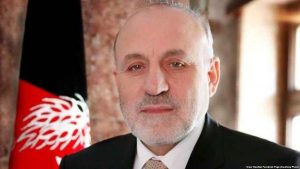 Afghanistan former Interior Minister Omar Daudzai reacted in a post under the title of "paving the ground for a full fraud election".
Mr Daudzai urged from the International Community, the embassies of donor countries, UNAMA and politicians of the country to put an end to the inconvenience at the IEC.
"Recently, the president holds weekly meetings with the participation of the Independent Election Commissioners, handed ambassadors, the United Nations Representative and senior members of the cabinet, except the politicians outside the government. During the meetings, the president appears as the executive director of the Independent Election Commission (IEC), speaking about the tasks to be done and orders the commissioners with his unique character" Mr Daudzai wrote.
"At one recent meeting, he has pushed the IEC to change the election process and install the sticker in the copy of Tazkiras; a measure which a large number of people, including four members of the Independent Election Commission believe it will increase the chances of frauds. Some participants confirmed that President Ghani had warned the commissioners to either accept the order or resign, and told the Commissioners that you had been appointed and not elected," he asserted.
Mr Daudzai also wrote about the inner problems of the IEC.
"The IEC is struggling with its own problems and suffers from a lack of leadership. The chairman of the commission Sayyad, is a professor of religious affairs. He does not have much understanding of his duties and there is no willingness to learn. Although, he repeatedly promised that he would not allow anyone to intervene in the affairs of the commission. he was now one of the three commissioners who welcomed the president to interfere in the election affairs," Daudzai said.
The former Interior Minister also emphasized that the disorders within the IEC will make the ground for fraud in the upcoming parliamentary election.
"There are many disorders in the election commission. The commission claims it recorded 1.8 million voters, but has not entered the information of even one of the registrants in the database. The issue has sparked speculations that the grounds for a full fraud election is prepared," Mr Daudzai further said.
He warned that if the government does not pay attention to the demands of the people to hold a timely and transparent election as well as to put an end with the interference within the commission, the people will not tolerate anymore and move to change the government.