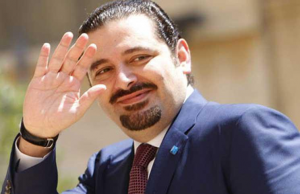 Saad Hariri has surprisingly resigned as Lebanon's prime minister Saturday, claiming he feared the same fate as his assassinated father if he remained leader.
In a speech delivered from the Saudi capital of Riyadh, Hariri said Iran has a desire to destroy the Arab world and has boasted of its control of the decisions in all the Arab capitals. Hezbollah imposed a reality in Lebanon through force of arms, and their intervention causes us big problems with all our Arab allies".
Meanwhile, Hezbollah leader Sayed Hasan Nasrallah says that it was Saudi decision to force out Lebanese PM, Saad Hariri.
"It is clear that the resignation was a Saudi decision that was imposed on Prime Minister Hariri. It was not his intention, not his wish, and not his decision" to quit, Hasan Nasrallah said in a televised address.
On the other hand, The Saudi minister for gulf affairs, Thamer al-Sabhan, who is a vocal critic of Iran, tweeted: "The hands of treachery and aggression will be cut off."
Saudi officials, led by Crown Prince Mohammed bin Salman, met Hariri several times this week before the Lebanese leader's resignation in Riyadh, where he spent much of his time between leaving Lebanon in early 2011 and returning to form a government in December last year.
According to the Guardian, Before Hariri's resignation, several senior officials from Barack Obama's administration had said a series of coordinated messages in Washington and Riyadh was building a case for a military confrontation with Iran. Saturday's announcement is likely to add to those concerns and increase fears of a clash between Hezbollah and Israel, which fought a devastating war in 2006.
Meanwhile, Israeli Prime Minister Benjamin Netanyahu said Hariri's resignation is "a wake-up call to the international community to take action against the Iranian aggression that is trying to turn Syria into Lebanon."
However, Bahram Ghasemi, Iran's foreign ministry spokesman dismissed the resignation as a plot by the U.S., Israel and the Saudis to incite tensions in the region, according to Iranian Tasnim news agency. Ghasemi said Hariri's "baseless accusations" indicate that "a new scenario" for the region was being created.
Hariri announced his resignation Saturday, after delivering a blistering attack on Iran and Hezbollah, both in Lebanon and across the region. The resignation followed consultations with Saudi Arabian leaders in Riyadh, and an earlier meeting with Iran's top foreign policy adviser, Ali Akbar Velayati, in Beirut.