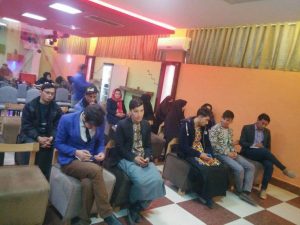 A number of students in Herat province during a meeting, expressed concerns over Daesh terror group, getting strength in the country, and called on preventing it.
According to DID news agency report, Herati students expressed concerns over security status in the country as extremist and terrorist groups, including ISIL expanded their activities in the province.
"As ISIL was defeated in Iraq and Syria, their project ended in the two countries and we are worried that Afghanistan would not be their next home," said the students.
Zainab Sepehri, a student and a civil activist in Herat province said: "ISIL threats have offended our minds and the name (Daesh) has escalated concerns in the country."
According to her, the whispers about reviving of Daesh group in Afghanistan are hard to believe and cannot be tolerated, as this group was destroyed in Iraq and Syria.
"The role of the Afghan government in destroying Daesh is prominent and should not be overlooked," Ms Sepehri added.
The Students in Herat province urge the government to root out ISIL in Afghanistan with the cooperation of popular forces and neighboring countries, and not let this country to become a safe haven for terrorists.
On the other hand, Mahdi Hadid, a representative of the provincial council at his rhetoric said: "ISIL project is an Israeli project, created to disunite Muslims."
It is noteworthy, earlier, officials of Khat-e Naw (New Line) organization expressed concerns over the Daesh fighters coming to Afghanistan, and called on the government to seriously counter this extremist group.