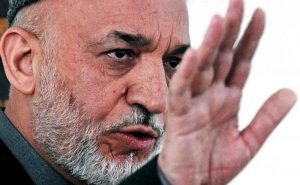 Former Afghan president Hamid Karzai in an interview with VOA has said: "he is opposed to any American strategy which boosts war in the country."
Mr. Karzai has said in the interview that he is against of more U.S troops in Afghanistan and does not consider it for the benefit of the country, according to Kabul News.
He has also talked about the security agreement between Afghanistan and the U.S.A, and said: "as long as there is no clarity of action about Pakistan's policies against Afghanistan, the security deal with America is not beneficial to achieve peace and stability and increases war in Afghanistan."
The former president was strongly opposed to U.S plans in Afghanistan in his relatively long years of being in power in the country and did not sign the strategic accord between America and Afghanistan too.
On the other hand, President Hamid Karzai stressed that he wants peace and back any measures that lead to political stability in the country, even if this is an effort by the United States.
It is worth mentioning that Hamid Karzai has been accused of sponsoring traditional structures than systematic structures in the country while in power.