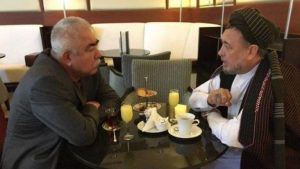 General Dostum and Mohammad Mohaqiq met in Turkey on Saturday, according to a statement by first vice president office.
According to a source who asked to remain unknown, Mohaqiq and general Dostum discussed current situation of the country and also Kandahar's political gathering which was held on Saturday.
"General Dostum told Mohaqiq during the meeting that he will soon come to Kabul unlike Arg palace will," the source close to the first vice president general Dostum told DID Press agency.
According to the statement, country's current status, emphasis on counter terrorism, solidarity and unity of Afghan people to build a unite and stable Afghanistan, finding a way to end the war and establishing peace in the country were the issues discussed by two sides.
This comes as Kandahar hosted a major political gathering in the past two days, in which political leaders, parties, members of the parliament and member of cabinet criticize the government's actions.
General Dostum is in Turkey since May, and differences between him and president Ghani are still ongoing.