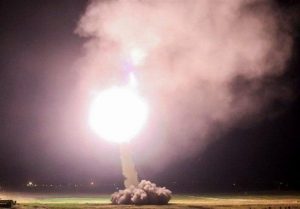 Last night, Daesh (ISIS/ISIL) military centers and positions were targeted by Iranian Revolutionary Guards' mid-range ground-to-ground missiles.
According to (DID) news agency report, Media office of revolutionary guards reported that 6 missiles hit ISIS positions in Syria, quoted from (IRNA).
"During the operation, a number of mid-range ground-to-ground missiles from IRGC Aerospace force in Kermanshah and Kurdistan provinces have targeted Daesh (ISIS)," according to the statement.
The Guard said that the missiles were "in retaliation" for the June 7 attacks on Tehran claimed by ISIS.
"The spilling of any pure blood will not go unanswered," the statement said.