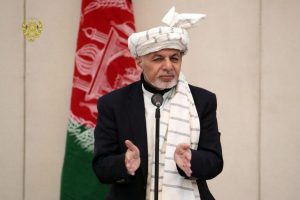 President Ghani read Islamic values important and stressed that more attention should be paid, in a visit with some religious scholars.
According to (DID) news agency report, it has come in ARG newsletter that some religious scholars granted the appreciation to Muhammad Ashraf Ghani, president of the Islamic republic of Afghanistan, due to his attention on Islamic values and holding a magnificent ceremony of "Miladun Nabi" (prophet's birth) for the first time in Salam Khana palace of ARG.
It has also come in ARG's statements that president Ghani besides thanking of the appreciation letter which is granted to him, said: it is my duty to pay attention on religious values and I will issue a command that from now on, the day of "Miladun Nabi" should be hold in an official and governmental way all over the country.
The president considered understanding the great Quran and Siratun-Nabi (prophet's tradition) important and said that I will help 3mn Afghani from my personal money to support your programs in the field of the holy Qur'an competition, Sirtun-Nabi and publishing religious books.
"Whenever hard times called on us, our scholars (Ulema) raised the voice of unity from any mosque and pulpit to unite the people against such difficult situations," he added.
Mr. Ghani also asked from the religious scholars to have more part in peace and inter-Afghan negotiations, raise the voice of peace from the pulpit of mosques and continue helping the administration to counter corruption and narcotic drugs.
It can be said that Mawlawi Munib, leader of Hizbi – Harakat of Islamic revolution of the people of Afghanistan, who was talking as their representative, thanked the president for paying attention on Islamic values and said: holding Miladun Nabi ceremony in ARG by the president was a good step which is conducted for the first time in the history of Afghanistan and in this way laid the foundation that will continue in the future.
He stressed on creating an Islamic center in Afghanistan on regional level that can propose plans and judgments in religious issues.