Kabul police detained a suspect in charge of instructing the ambulance laden with explosives at Sedarat crossroads, Kabul police said in a statement.
---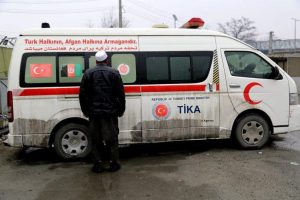 According to the statement, the suspect was arrested in Kabul PD3.
An ambulance had entered the area of old interior ministry building and parking of Jamhuriat hospital just before the ambulance – full of explosives – in fact, the first ambulance had instructed the second ambulance full of explosives.
"The arrested man along with the ambulance have been submitted to the national directorate of security for further investigation," Kabul police said.
Meanwhile, the Afghan interior minister Wais Ahmad Barmak briefed about the deadly Saturday attack: "the primary investigation indicates, the two cars colored as the ambulance had entered the area of the interior ministry old building."
According to police explanations, the first car was stopped and the police checked the car but it insisted that the second car was with them, transferring some sick people, so the police open the gate and they enter the Jamhuriat parking area. The first car that escorted the second vehicle got out of the area. The second vehicle full of explosives also got out of the parking after 20 minutes and went toward the second checkpoint, then was stopped by the police, this is the time it exploded.
The latest figure shows that 105 people were killed and 195 others wounded in Saturday Taliban's deadly attack, according to the Public health ministry.