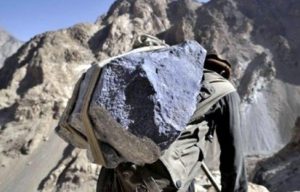 Illegal extraction of mines and smuggling minerals, continued the war and funded terror groups …
At a press conference held by the Afghan parliament and the European Union to identify the challenges facing Afghan mining industry, the second vice president Sarwar Danish said: illegal extraction of mines and smuggling the minerals continue the war and sponsor the terror groups. He also said that the involvement of foreign countries and tyrant people in the mining process of Afghanistan, adding that these issues have made the investors uninterested in extracting mines.
Mr. Danish also admitted to another important issue at the conference, saying administrative corruption, weakness in legal infrastructures and insecurity are also major challenges against the legitimate and proper usage of mines by the Afghan government.
Now the fundamental question that the government itself must answer is, why this is the case and what should be done to get out of this stalemate.
Reports about corruption in mining contracts were released several times by media outlets while Hamid Karzai was in power. A lot of research reports have been published on embezzlements, bribery, and nepotism in various contracts, but neither sought by the former government nor by the current government which claims counter corruption.
The fact that why it was not pursued, is a question which the answer is a bit difficult and somewhat complicated.
In general, if we want to answer it, the corruption within government agencies have faced the mines extraction with the mentioned problems as Danish admitted.
Undoubtedly, foreign investor firms neither are interested in bribery nor they were familiar with this ugly culture. The government officials both in the past and the current administration spoiled the mines or have prevented its legal extraction by taking bribes, massive embezzlement and "nepotism."
Mr. Danish is also a main pillar of the national unity government where strong tendency to monopolize the power and economy, administrative dictatorship and the influence of a number of specific circles with ethnic, linguistic, and politic orientation at the decision-making entities have created special channels that have affected the mines extraction and the other national processes.
The establishment of national procurement commission has initially suggested speculations that making important decision by some people can spread corruption. The scandal of several large projects to a Lebanese firm by the commission, which was reflected in the media can prove this claim.
Now, if the government wants to really fight the corruption and to prevent the illegal extraction of mines. First, it must avoid monopolization and should consult with different political movements while making important decisions. Second, it should severely prosecute the former corruption cases which were carried out by the ministers and senior officials and make the results public, so that on the one hand, the concerns of the foreign investors will be eliminated and on the other hand, the national capitals would not be spoiled.
Zaher Shokoohmand – (DID) press agency
Translated by Taher Mojab