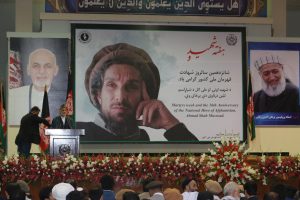 The announcement of U.S strategy for Afghanistan is a big conspiracy and follows some consequences, country's former president Hamid Karzai said.
Mr. Karzai expressed these words Saturday morning (9 September) at the ceremony of Martyr's week and the anniversary of Ahmad Shah Massoud assassination.
He said that many countries and our neighbors have opposed with the American strategy and we should try not to let Afghanistan, a place for rivalries.
Mr. Karzai called on great powers in the world and the region to stop competition in Afghanistan and asked America and the neighboring countries to cooperate with each other instead of competing in Afghanistan.
However, Hamid Karzai had previously opposed with the New U.S strategy for Afghanistan and South Asia. He said that the strategy will continue the war in the country.
Although, the strategy has put some pressure on Pakistan, welcomed by the Afghan government and some politicians.