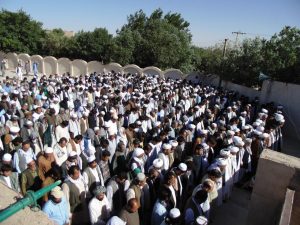 Yesterday afternoon, the funeral ceremony of Al-Hajj martyr Fayaz, martyr Karimi and martyr Samimi-who were martyred in an explosion yesterday-was held in Herat province, attended by religious scholars and hundred residents of the province.
According to (DID) news agency report, Mr. Yazdani, preacher of the central mosque in Al-Mahdi Gabriel town spoke about the position of martyr in the ceremony, and said that we are responsible for the blood of the martyrs and we have to litigate.
He addressed to governmental officials, and added, we have referred to security authorities many times since the assassination of figures and religious scholars. They have promised to pursue the cases and providing the security, but we have seen no evidence of follow-up past cases, prevention of incidents and providing security.
"The government should understand the people's status and pay attention to security more than ever," Mr. Yazdani underlined.
Meanwhile, Mr. Tawakoli, the representative of Ayatollah Hakim's office in Herat and a well-known cleric in west zone, said that in the recent years, the enemy has targeted Ulema and mosques.
"It states that Islam in Not our enemy," he added.
The religious scholar also said that no Muslim, kill a Muslim in Ramazan Month.
Mr. Tawakoli stated that the main enemy of people and religion are Jews and Christians and that they have carried out the terrorist attacks.
According to him, Muslims must seriously abide by the religion and Ulema and reply unanswerable to the enemy.
He invited the people to unity at the end of his speech, and said: "the enemies of Islam intend to divide Muslim Ummah and we should be vigilant."
On the other hand, Qari Ahmad Ali Ghordarwazai, Hezbollah leader of Afghanistan also invited people to unity.
"The government should find the capacity to accept popular forces within itself, in order to save us from the crisis." He added.