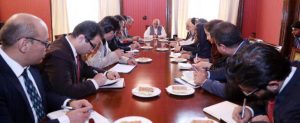 President Ghani stressed in a conference – which was held in ARG to address people's problems along Durand line and to bring reforms at U.N entities in Afghanistan – that Pakistan's rocket attacks in east Afghanistan is "disastrous" and the problems of the both sides' residents must be addressed.
According to ARG statement, Secretary-general's special representative for Afghanistan Tadamichi Yamamoto who had attended the meeting, discussed Pakistan's rocket strikes along Durand Line and it was stressed that these attacks have caused human tragedy.
Mr. Ghani has said that Afghanistan has taken serious measures in this regard, demanding U.N's serious attention on the issue.
It was also said that people on both sides of the line have been displaced due to Pakistan's army assaults and are in need of humanitarian assistance.
The Afghan government and the U.N are expected to create a joint team to work on the details of the issue.
It is worth mentioning that Pakistan's rocket strikes along Durand line have caused plenty problems for residents of eastern Afghanistan in the past years, but the government has not taken serious actions in this regard so far.