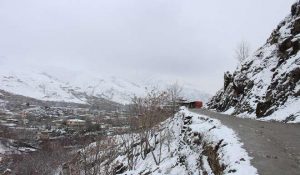 Nowadays the Kabul pollution has reduced due to recent heavy snowfall, while before a thick fog and smoke had covered Kabul space especially during early morning and late afternoon hours. In an interview with The Kabul Times reporter, talking on the reasons behind pollution, deputy director of International Relations of NEPA Abdul Wali Modaqqeq said, "Natural and unnatural or manmade factors are involved in pollution. Most people used fossile materials as fuel that produced dangerous gasses. Population density is another reason behind pollution. As cited Kabul times.
He added, "NEPA has undertaken different programs in different fields which are being implemented in Kabul and other big cities with the direct cooperation of relevant bodies including Kabul Municipality, MoAIL, MoI, MoIC and MoWA. A number of those partners should be involved in promotion of public awareness.
He went on to say, fortunately recently we witnessed heavy snowfalls in capital Kabul and majority of provinces that was a great mercy of Allah the Almighty.that reduced pollution One of the options for reduction of pollution is creation of green areas that has socio-economic values. Plantation of saplings makes environment lovely and prevent pollution.
Modaqqeq requests the citizens to contribute for cleaning of environment and take active part in two-three weeks in sapling plantation campaign in Afghanistan and take care of planted saplings.
Talking on the out breaking of diseases due to pollution, Dr Darwesh Mansoor said, Respiratory disease is one of the fatal diseases that outbreaks among people especially children and old people.
Dr Mansoor added, "Environmental problems include density of population, crowd of vehicles, accumulation of garbages, construction of illegal building, etc.
Our citizens say that lack of urban culture, usage of smoke producing vehicles, smoke of public baths, lack of sewage system are among serious problems that have remained unpleasant impacts on environment.
Setera a student of Geology faculty, Kabul University talking on pollution said, "Cleanliness is part of faith. We should keep our environment clean and prevent pollution.
Madiha Ahmad Shah another citizen said, "Although snowfall causes respiratory diseases and especially affects children pollution but it has relatively rescued us from pollution takes lives of thousands people every years.