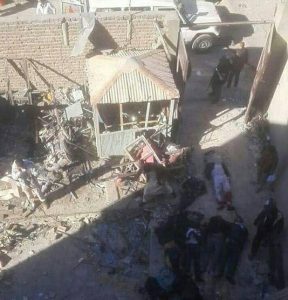 Three suicide attackers hit Afghan Voice News agency and Tebyan social-cultural center at PD6 on Thursday morning.
Three suicide bombers detonate their explosives inside and in front of the two centers.
The third attacker detonated his explosives as the security forces and ambulances were transferring dead bodies and injuries to the hospitals.
According to Afghan Voice news agency, more than 30 people were killed and more than 40 others wounded.
This comes as the Afghan interior ministry confirmed to DID news agency that 25 people were killed and 32 others wounded but National directorate of security said that at least 30 were killed and 40 others injured.
However, according to eyewitnesses, a 100 people were killed and wounded during the incident.
A scientific-cultural meeting on the occasion of 6 jaddi (27 December) was expected to hold at Tebyan social-cultural center.
Taliban's spokesperson Zabihullah Mujahid rejected any involvement in the event.
This is not the first time that cultural centers and media outlets are targeted by suicide attackers. Shamshad TV station was also hit by suicide bombers in October.