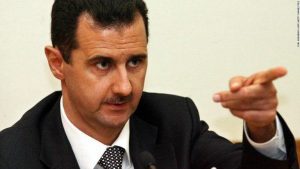 Syrian President Bashar al-Assad has threatened to fire missiles at Israel if the country's air force carries out one more air strike on Damascus.
According to Jewish Press, Assad made the threat during a phone conversation with Russia's President Vladimir Putin.
Assad said he would launch Scud missiles at Ben Gurion International Airport if Israel bombed Damascus again.
The Russian president said he would be sure to convey the message to Israel.
On the other hand, in first reaction, an Israeli military official said, firing missile at Ben Gurion airport means a declaration of war on Israel.
About three weeks ago, the Syrian army announced that Israel had carried out a series of attacks on the Assad military base in the eastern mountain range of Qalamon, north of Damascus.