Former Afghan president Hamid Karzai, who has attended the 32nd edition of the International Islamic Unity Conference in Tehran, said: "all the wrecking acts have failed to erode the unity of Islamic sects in Afghanistan."
---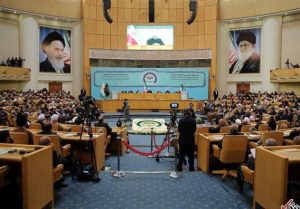 Former Afghan president Hamid Karzai, who has attended the 32nd edition of the International Islamic Unity Conference in Tehran, said: "all the wrecking acts have failed to erode the unity of Islamic sects in Afghanistan."
The status of Islamic sects in the Afghan constitution is based on justice.
"during the 14 years, I had the mission to serve the government of the Islamic Republic of Afghanistan, we established a peaceful and balanced relationship with the neighbors, especially with the Islamic Republic of Iran and Saudi Arabia," former president Hamid Karzai said, pointing to the time he was the head of the Afghan government.
Referring to the Islamic Republic's experiences and policies, Mr. Karzai added: "the successful experience of the Islamic Republic of Iran in integrating religious values with contemporary achievements has shown that the path to progress and independence can be successfully passed."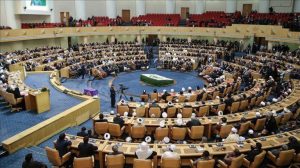 The country's former president talked about the peace process as well.
"Peace initiatives for Afghanistan have recently begun. Moscow peace format in the presence of the Tehreek-e-Taliban and the High Peace Council of Afghanistan, as well as the new efforts of the United States, have given hopes, and I call on the Islamic Republic of Iran to cooperate fully in this regard," he further said.
The 32nd round of the International Islamic Unity Conference kicked off in Tehran on Saturday morning under the motto of "Quds, the axis of unity".
The conference, organized by the World Forum for Proximity of Islamic Schools of Thought (WFPIST), started with representatives from 100 countries in attendance.
The conference is held annually on the occasion of the birth anniversary of Prophet Muhammad (PBUH) in an effort to lay the ground for stronger unity and solidarity among Muslims and provide appropriate solutions for their problems.