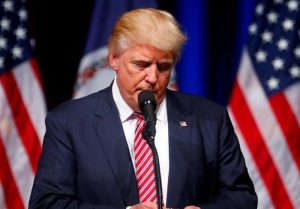 The US president Donald Trump once again talked about Iran deal at the cabinet meeting, saying: the second step could be the total termination of Iran's nuclear deal.
According to American media, Mr. Trump has said: "we will see what the second step is. It may be total termination. That's a very real possibility,"
Mr. Trump considered Bargam as the worst deal in American history. He has voiced his disagreement about the deal since his election campaigns.
"I feel strongly about what I did," adding that "I'm tired of being taken advantage of as a nation," Mr. Trump told reporters at a meeting of his Cabinet in the White House on October 16.
Tensions between Tehran and Washington became tense after Iran tested Iran's Khorramshahr ballistic missile and emphasized on the development of its missile industry.
The United States consider stopping Iran's missile industry, as part of the nuke deal while Tehran has a different belief and considers it within the international laws.
The White House has recently announced a new US strategy against Iran, in which the Iranian government was accused of supporting terrorism and creating chaos in the region, something that has always been rejected by Iranian leaders.
However, the US secretary of state Rex Tillerson has just said the termination of the deal is not in the interest of his country.