U.S. lawmaker Adam Schiff on Monday exchanged fire with President Donald Trump who slammed him over his efforts to release another edition of the disputed memo alleging the FBI and Justice Department of surveillance abuses in the Russia probe.
---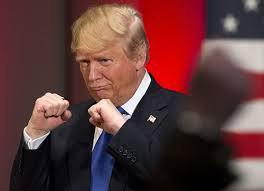 "Little Adam Schiff, who is desperate to run for higher office, is one of the biggest liars and leakers in Washington," Trump tweeted Monday morning.
"Adam leaves closed committee hearings to illegally leak confidential information. Must be stopped!" the president claimed.
In response, Schiff tweeted: "Mr. President, I see you've had a busy morning of 'Executive Time.'"
"Instead of tweeting false smears, the American people would appreciate it if you turned off the TV and helped solve the funding crisis, protected Dreamers or…really anything else," the ranking member on the House Intelligence Committee said.
Schiff is expected to call for a vote on Monday afternoon for the House panel to release a Democratic rebuttal to the Republican-drafted classified memo released immediately after Trump's authorization on Friday.
According to the memo, a number of then top U.S. law enforcement leaders abused their power by inappropriately obtaining a surveillance warrant on Carter Page, a foreign policy adviser to the Trump presidential campaign until September 2016.
Big names identified in the memo include then FBI director James Comey and his deputy Andrew McCabe, then-associate deputy attorney general Bruce Ohr, as well as current Deputy Attorney General Rod J. Rosenstein, who assigned Special Counsel Robert Mueller last year to take charge of the probe into possible collusion between the Trump campaign and Russia during the 2016 elections.
The president tweeted at the weekend that it "totally vindicates" him in the ongoing probe into Russian election interference.
On Sunday, Schiff warned that Trump is trying to turn the Department of Justice into a "personal political tool."
The memo was prepared by Devin Nunes, the Republican chairman of the House Intelligence Committee. He served on the Trump transition team and is widely seen as a Trump's close ally.
In comparison, Democratic lawmakers have called the memo misleading and part of an effort to undermine Mueller's ongoing probe.
The memo was meant to "sow conspiracy theories and attack the integrity of federal law enforcement as a means to protect President Trump." Senate Minority Leader Chuck Schumer said Thursday.
On Wednesday, the FBI, which objects to the memo' disclosure, said in a statement that it has "grave concerns about material omissions of fact that fundamentally impact the memo's accuracy."
Source – Xinhua news agency