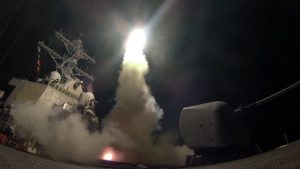 Yesterday, in response to chemical attack attributed to Bashar Assad's forces, American warships on Mediterranean Sea launched about 60 "Tomahawk" missiles to an air base of "Shayrat" southeast of Homs.
This measure, is counted as the first direct attack of America to the government of Syria during the six-year civil war of the country. It is said, America with this action, has entered into a proxy war with Russian military presence in Syria.
Donald Trump, US president, described the attack as a kind of prevention from the spread and use of chemical weapons, in a video statement.
Trump also said that Syria violated its commitments under the chemical weapons convention and ignored the demand of UN Security Council.
The government of Syria condemned the attack, but Syrian rebels welcomed that.
The attack, which was conducted on the eve of America's meeting with Chinese president, led the Asian stock markets to face fluctuations.
In addition, Talal Barazi, Homs governor in an interview with (associated press) news agency, said that the attack resulted in death of 3 soldiers and 2 civilians and also wounded 7 other people.
Meanwhile, a monitoring group belonging to the Syrian oppositions, said that the air strike killed at least four Syrian soldiers, including a General and heavily damaged the area.
Australia, Israel, Arabia, Japan, Germany and France have welcomed this action of America.
However, Kremlin says that Vladimir Putin, Russian president believes that the US attack on the Syrian air base is "aggression against sovereign country and in violation of international law."
Russia's foreign ministry says, in response to the US measure, will suspend the agreement of preventing air strikes in Syria sky. According to the agreement, America and Russia exchange information about their flights in Syria sky, to prevent occurrence of incidence in Syria sky.
On the other hand, Bahram Qasimi, Iranian foreign ministry spokesman denounced America's airstrike in Syria, and said that unilateral action is dangerous and destructive and violate the principles of International law.
Indonesia's foreign ministry expressed concerns about what is read as unilateral and external measures in Syria, including America's attack to Syria's air base.
It is noteworthy that 9 Syrian airplanes were destroyed in the attack and the cooperation between Russia and America have completely stopped in Syria.